Reunion 1999
Photos Provided by Barbara (Bright) Dunaway
Daughter of Platoon Sergeant Billy Bright.
Billy was killed in an automobile accident in 1983.
Billy Bright was a great man and Scout Platoon Sergeant.
"Barbara, thanks for the photos and the words."
---
A Troop, Scout Platoon, 1967-68 in the Gold Vault Inn Conference Room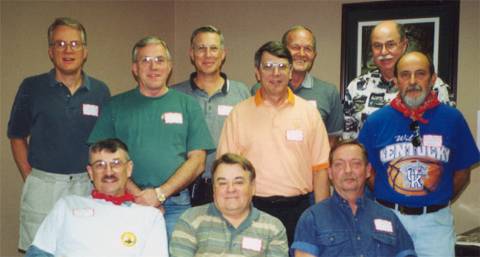 From left, standing, Ernie Lamb (Crew Chief), Jim Smith (Pilot), Jim Sapp (Team Leader), Phil Pittman Pilot), Tony Bowers (Observer), Jim Cully (Team Leader), John Davenport (Observer). From left, setting, Charlie Rayl (Section Leader), Bob Young (Platoon Leader), Bill Hallinean (Observer)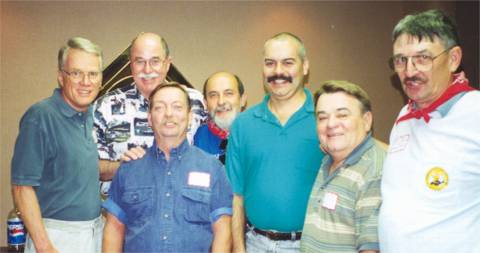 No, that is not PSG Billy Bright!
Standing from the left, Lamb, Cully, Hallinean, Davenport, Tony Bright (Billy's Son), Young and Rayl.
It was great to have Tony at our reunion.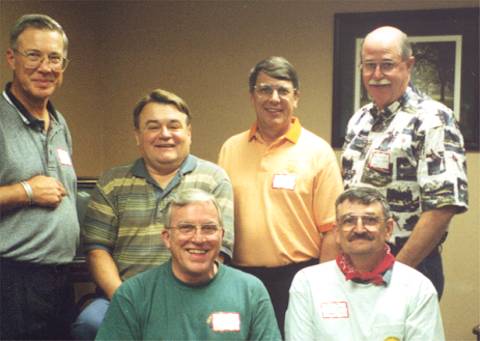 The Scout Platoon Pistol Team, 1967-68
Standing from left, Sapp, Young, Pittman, and Cully. Setting from the left, Smith and Rayl.
Sapp has the only pistol finger.
The 1967 pistol team photo will be added later.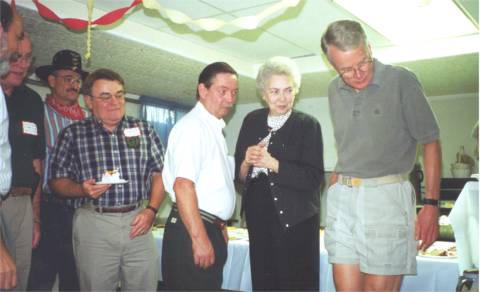 "What? We weren't supposed to cut the cake yet???
Saturday night dinner at the Lodge.
John Davenport, Jim Smith, Charlie Rayl, Bob Young (cake), Rosemary Bright Devilbiss and Ernie Lamb. It was a special honor for Rosemary, Billy's wife, to attend our dinner.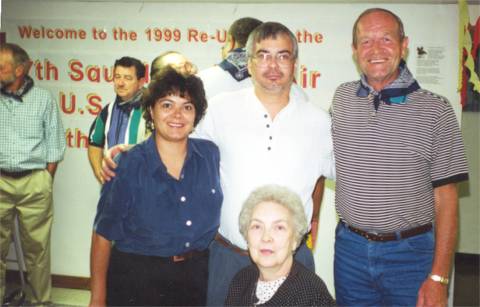 Barbara (Bright) Dunaway, Mike Bright, Tony Bowers and Rosemary (seated) shared some good memories. Barbara and Mike are Billy's daughter and son.
It was exciting to see Billy's family and for them to be include in our activities.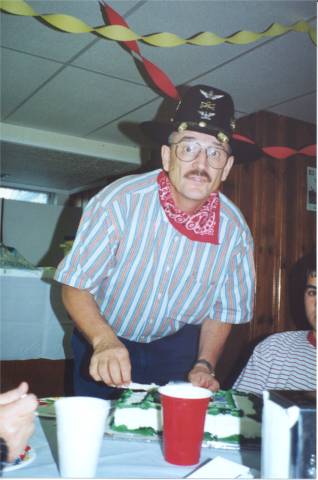 Who, Me?
Hah, she caught you!
Saturday night at the lodge.
Charlie Rayl caught red handed getting another dessert.
Charlie is getting a piece of cake that Bright's family brought for the celebration. The icing, made from a 1967 photo of Billy's scout platoon, is all eatable.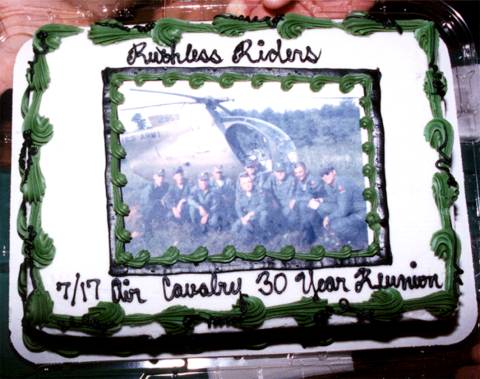 The Bright family surprised us with a photo cake. The eatable icing is made from a 1967 A Troop, Scout Platoon photo.
It was a special surprise.


















Vernon Rose "awarding Bob Young the "Grunt For A Day Award With Blue Kerchief"



















Len Litscher, Vernon "'toon-daddy" Rose, Bob Young, Dan Dantzler, and Ernie Lamb receive recognition for their help in sponsoring this reunion.
Len Litscher and Ernie Lamb were recognized for their persistence over the last 4 years to get us together.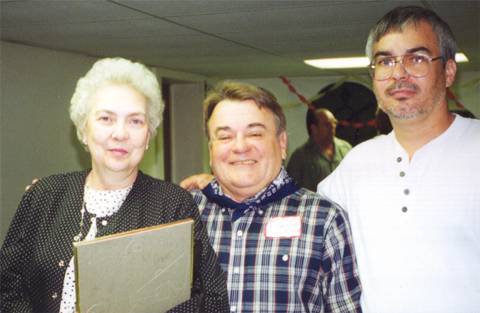 Rosemary, Bob and Mike are caught saying their goodbyes for the night.

---
Gallop To Squadron Headquarters