VIETNAM VETERANS MEMORIAL WALL
"IN HONOR OF THE MEN AND WOMEN OF THE ARMED FORCES OF THE UNITED STATES WHO SERVED IN THE VIETNAM WAR. 
THE NAMES OF THOSE WHO GAVE THEIR LIVES AND OF THOSE WHO REMAIN MISSING ARE INSCRIBED IN THE ORDER THEY WERE TAKEN FROM US"
---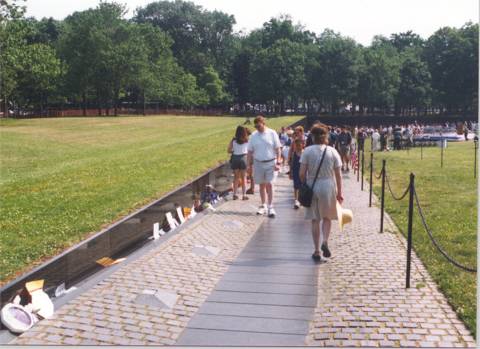 THE WALL
"The Wall at about 1100 hours is very pretty and peaceful. (Bob Young Photo)
Many groups of school children were visiting. Each group wore a distinctive shirt or item of clothing. It is rewarding to see young people mixing with older veterans. They came to understand and learn. All were respectful.











Henry Jackson's name added within a foot of Douglas A. Walker's name. Henry's engraved name is barely visible between the top of his photo and the yellow letters. Scotty's engraved name is just above his yellow name. The yellow names were added to this photo to aid in seeing the engraved names. Charlie Rayl provided the photo and red scarf. Others placed the Vietnamese flags along the w all. (Bob Young Photo)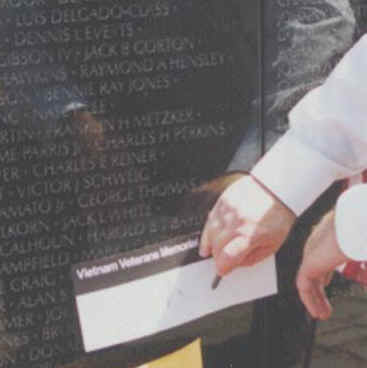 Volunteers were available along The Wall to assist visitors in locating names. They provided the pencil and paper to make rubbings of names. The result of Henry's rubbing is below. (Bob Young Photo)




















My rubbing of Henry's name. "My piece of The Wall." (Bob Young Photo)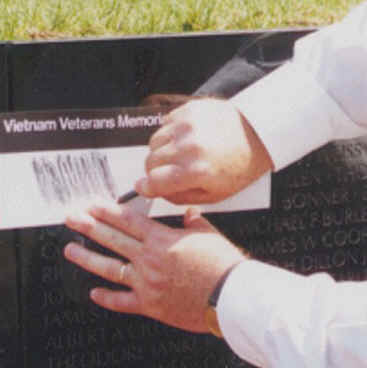 Rubbing Scotty's name. (Bob Young Photo)






















Another piece of The Wall is my rubbing of Scotty's name. (Bob Young Photo)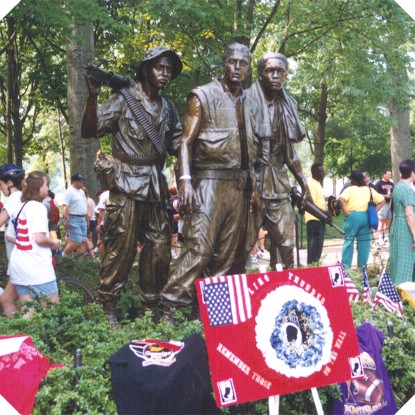 The Memorial Men look down at The Wall from their hill in the trees.  (Bob Young Photo)

"Sculptor Federick Hart's goal was to create a moving evocation of the experience and service of the Vietnam veteran. He has described it as follows: 'they wear it on their uniform and carry the equipment of war; they are young. The contrast between the innocence of their youth and the weapons of war underscores the poignancy of their sacrifice. There is about them the physical contact and sense of unity that bespeaks the bonds of love and sacrifice that is the nature of men at war.... Their strength and their vulnerability are both evident.' The flag flies from a 60-foot staff. The base contains the emblems of the five services. The sculpture and flag form an entrance plaza."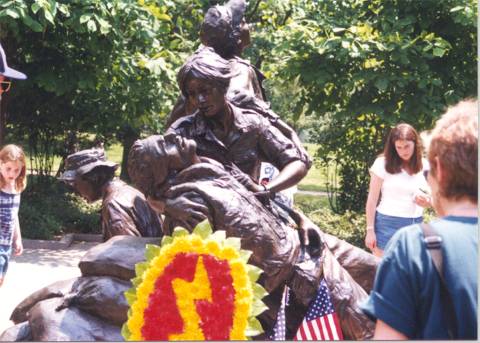 The Memorial Women  remembers all the nurses and woman that served in Vietnam. (Bob Young Photo)

"Dedicated on November 11, 1993, as part of the Vietnam Veterans Memorial, the Vietnam Women's Memorial honors the women of the U.S. Armed Forces who took part in the war. The statue was sculpted by Glenna Goodacre and depicts three women coming to the aid of a fallen soldier. It recalls the courage and sacrifice of all women who served. Planted around the memorial are eight yellowwood trees - a living tribute to the eight servicewomen killed in action while in Vietnam."





The Washington Monument is under a plastic wrap for repairs. (Bob Young Photo)















---